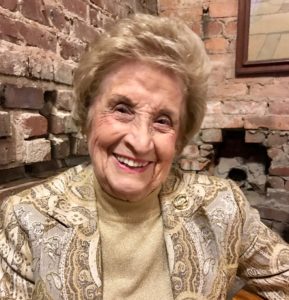 Dorothy "Dot" Padgett laughingly recalls the time she went about telling Egyptian President Anwar Sadat and Israel Prime Minister Menachem Begin the agenda for the day in Washington's Blair House as they worked toward the historic peace accords between the two nations. Padgett, assistant chief of protocol for President Jimmy Carter, is a Southern woman of the Steel Magnolia variety — intelligent, tough as nails and imbued with a sense of humor that would crack up the biggest grinch in the tent.
She speaks with a strong Georgia accent. After her presentation, Sadat turned to the ambassador and remarked, "I thought you told me Mrs. Padgett spoke English."
To give equal time in the spirit of the event, she also recalls the time Begin gave her a good morning kiss on an airplane, leaving crumbs all over her cheek which the prime minister brushed away with his hand.
Not all her fascinating stories about being eyewitness to some of history's great events are in her new book, "Jimmy Carter: Elected President With Pocket Change And Peanuts" but there are plenty written in an easy-going, down-to-earth, honest and folksy Southern drawl that makes you love the book — and the author.
The central theme is how a Naval Academy grad followed Capt. Hyman G. Rickover into the nuclear submarine program then returned to a peanut farm in dusty, hot and humid South Georgia to start a political career that took him from the state Senate to President of the United States with the help of dedicated friends on a shoestring budget. Padgett, whose husband Dave was a successful Atlanta banker, came into the picture when Carter made his second run for governor in 1970. He lost four years earlier. A mutual friend recommended Padgett for the campaign. Carter drove to her Douglas County home to introduce himself.
Padgett was pulling weeds in the yard. Standing up and leaning on a shovel for support, she thought at first glimpse Carter had some characteristics shared with John F. Kennedy only not as "strikingly handsome" as JFK. In his Foreword for her book, Carter writes, "That hurts, but I can take it."
When he decided to run for president, Carter got up early to tell his mother, known affectionately as Miss Lillian. She was asleep in what was known as the pond house. He propped his feet up on her bed and announced he was running for president. She told him to get his feet off her bed then asked, "President of what, Jimmy?"
It is hard to imagine in these days of huge staffs and hundred of millions spent on campaigning, but under federal election law then only $21.8 million was allowed for the general election campaign. Thus came to life a group of family, friends, and passionate supporters dubbed by media the Peanut Brigade. They knocked on doors, gave out packets of peanuts and paid their own way to win support for the man they admired. Accustomed to the red clay of their native Georgia, the cold and snow of New Hampshire created a challenge — but also a way to relief stress with snowball fights. It amused everyone but a CBS reporter Padgett hit on the noggin. Residents took pity on these folks with strange accents and invited them in. The Brigade won them over.
Carter had promised never to lie to the people. Another Georgia politician, segregationist Lester Maddox, inexplicably showed up in a Manchester, N.H., hotel for a press conference, saying he was a "one man truth squad" to spread the word that Carter was a liar. Carter Press Secretary Jody Powell, also a Georgian, told media, "Being called a liar by Lester Maddox is lie being called ugly by a frog." That elicited a negative response from something called the Worldwide FairPlay for Frogs Committee.
In the end, Carter had 297 electoral votes, President Gerald Ford had 241. "… I remember jumping up and down, hugging everyone in sight and dancing all the way to my car to get home to my family," Padgett writes. "That is what I will tell my grandchildren."
And then it got harder.
"I flew home the day before Christmas," she remembered, then in true Padgett humor that envelops her life then and now, "I found a discarded tree that had been decorated, did my Christmas shopping at Kroger and spent Christmas Day celebrating with my family."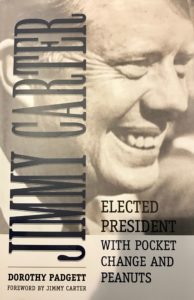 Then she organized an inaugural train ride to Washington where the Brigade marched under a giant peanut. Her book is packed with inside looks at serious world affairs like the Camp David Peace Accords, the Panama Canal treaties, relations with China, the Iran hostage crisis and more. It gets up close and personal with Carter, his hard-working, classy and dedicated wife, Rosalynn, and other members of the Carter clan and their friends and neighbors. They all have stories to share. As do I.
When I was a columnist for The Atlanta Constitution, Padgett and I used to ride horses in her rural Douglas County. On one occasion she invited me to lunch in a local place. Her husband Dave was out of town and there were no ATM machines then and she had no folding money. She insisted on paying with the loose change she could find in her purse. This embarrassed me and she loved it. The next time we rode I was prepared, leaving the table and walking across the restaurant where I put some distance between us while pretending to use the pay phone to prevent an encore. It takes more than that to spoil unsinkable Dot Padgett's fun. "Hey Bob," she yelled across the room. "Got any change?"
I flew to Atlanta recently to hear her at the Carter Center, she's a hoot in person, and get a signed copy of the book, although, as I told her, she never came to any of my signings.That was the most expensive book I ever bought. On the top of $35 for the book, there was airfare, hotel and rental car. Not to worry, she said, "I will take you to dinner." My heart sank. Thankfully she paid by credit card.
In her preface, Padgett explained her vision for the book she worked on over several decades:
"Young people can see how examples of hard work and determination can accomplish incredible ambitions and overcome tremendous odds.
"Politicians might gain knowledge on running for office without the expenditure of large sums of money.
"Historians and scholars will find historical facts used to describe events and places.
"My hope is that the reader will find the book entertaining and easy to read."
On that last one, Mission Accomplished.