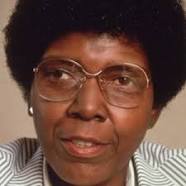 Today is the birthday of trail-blazer Rep. Barbara Jordan of Texas, one of my heroes. Her participation in the Watergate impeachment hearings brings tears to my eyes and joy to my heart. It is timeless.
Some time after that episode I was on deadline in Atlanta for a column and wanted to make sure I got a quote correct (before Internet) so I called her Texas office and told the receptionist I was on deadline. She asked me to wait a minute.
Someone picked up the phone and said, "My faith in the Constitution is whole; it is complete; it is total." Texas journalist Molly Ivins, another of my favorites, was right — Jordan was the voice of God. Not only did I hear when that booming voice said it to the nation during the hearings when we desperately needed reinforcement for the principles we hold dear, she said it to me privately.
She died from viral pneumonia, a complication of leukemia. She also suffered from multiple sclerosis. After leaving Congress in 1979, she taught political ethics at the University of Texas' Lyndon B. Johnson School of Public Affairs, in her latter days from a wheelchair.
She left us much too soon but We The People can be grateful we shared the planet with her as long as we did, albeit not long enough.